On weekend, before I go relaxing somewhere, I like to go shopping in the market to buy necessary stuff. Mainly to fill up my empty fridge for food. I normally buy meat and vegetable from this fresh market but other stuff I'll buy from supermarket near my place.

Fresh market where I can find everything for my food.

Russian convenient store--there are a lot of this small shop everywhere on the street.
I came here when really lazy to go to market.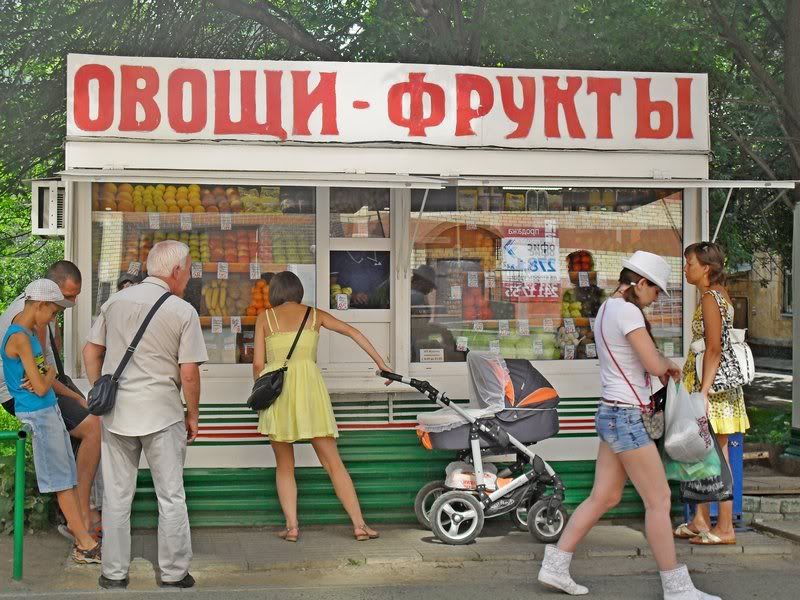 Expressions when buying things in Russian:
Excuse me, how much does it(product) cost?
Извините, сколько это (продукт) стоит?
Isvinitye, skolko eto (prodookt) stoit?
How much does all this cost?
Skolko eto vsyo stoit?
It's five hundred Ruble.
Eto pyatsot rublei.
Do you take credit card?
Вы принимаете кредитные карты?
Vi prinimayete kreditniye karti?
Sorry, we don't take credit card only cash.
Извините, мы не принимаем кредитные карты.
Isvinite, mi nye prinimayem kreditniye karti.
Do you need pocket?
Vam noozhen paket?
Do you have member card?
У вас есть членская карта?
Oo vas est chlenskaya karta?
Do you have change?
Oo vas est sdacha?
Thank you.
Spasibo
You're welcome.
Pazhalooista.
Important vocabularies you should know:
Supermarket
–
Супермаркет
- supermarket
Product
–
Продукт
- Prodookt
Vegetable
–
Овощ
– Ovoshch
Beef
–
Говядина
- Govyadina
Chicken
–
Курица –
Kooritsa
Lamb
–
Баранина
- Baranina
Seafood
–
Морепродукты
- Moryeprodukti
Refreshment
–
Отдых
- Otdikh
Bakery
–
Булочная
- Boolochnaya
Sausage
–
Колбаса
- Kolbasa
Price tag
–
Ценник
- Tsennik
Discount
–
Скидка
– Skidka
See more how to pronounce
Russian Alphabets
if you're new to my blog. Later I'll list more names of necessary vocabularies about food. It seems a lot already today, bye:)